Spanish as a Foreign Language
About Mérida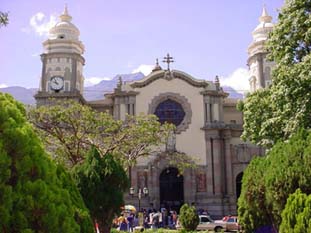 The city of Mérida, capital of the state of the same name, enjoys a pleasant climate with an annual average temeperature of 19° C. It is blessed with the largest number of parks and squares of any other state capital. Among these is the Sierra Nevada National Park where Venezuela's highest peak, Pico Bolivar (5,007 metres above sea level) can be found, as well as the world's highest (4,765 metres) and longest (12.5 km) cable car.
This beautiful city is known throughout the length and breadth of Venezuela as its premier student city, due to its historic cultural vocation and its intense intellectual and artistic life. In addition the beauty of its mountainous surroundings, climate, and cultural wealth have made of Mérida one of Venezuela's most important tourist locations.
In our Spanish language programme you will have the opportunity to study Latin American Spanish in one of the most prestigious universities in Venezuela, located in Mérida, Venezuela's premier student and touristic city.
Location
We are located within the Faculty of Humanities and Education of the University of the Andes, situated a few minutes from the heart of Mérida, where students will have the opportunity to integrate into Mérida's student life.
Teaching Staff
Our teachers are all graduates in Modern Languages, Literature or Linguistics and enjoy a wealth of experience in teaching Spanish to students from a variety of countries and cultures.
Programme and Materials
The program consists of six levels corresponding to the Council of Europe Basic and Independant Users, Levels A1 to B2. Each level consists of 50 hours contact time which can be arranged according to the individual's or group's reqirements. On completion of each level, the learners will recieve a certificate from the institution and an individualized report of their achievements.
Our teaching materials are continually being revised to satisfy both the academic and cultural needs of our students. All study materials are included in the cost of the course.
Prices
| | |
| --- | --- |
| Number of students | Cost per hour/ student |
| 1 | US$ 10 |
| 2 - 5 | US$ 8 |
| 6 - 9 | US$ 5 |
| 10 o más | US$ 4 |
Contact Information
Mailing Address: Fundaidiomas, Av. las Americas, Complejo La Liria, Edificio A 2do. Piso, Mérida 5101-A, Venezuela.
Telf: +58 (274) 2401881 Fax: +58 (274) 2401792
E-mail: idiomas@ula.ve